Here are a few images our plaster applicator just sent showing the progress of the walls and floor. Though it still looks like a messy construction zone, I'm really happy with how the plaster is turning out. I can tell from the photo that it has a gorgeous texture and the way it bounces light is beautiful (why we went with Italian lime plaster in the first place). Of course this week has been very, very humid in St Barts, making the dry times on the plaster a nightmare!
We flew the plaster applicator in from Miami since he's one of the very few people in North America who can apply true Italian Lime Plaster and Tadelakt. Venetian plaster is a common finish in the US, but in my opinion it has a plastic look. Tadelakt, or Italian Lime plaster has a unique texture that makes you want to reach out and touch it. When you are in spaces that have this finish on the walls, it's almost as if the room is hugging you. I was first exposed to it in Greece. It's commonly seen throughout Europe and Morocco but rare in the US, though I'm starting to see it pop up more and more on design blogs. If you like clean lines and a minimalist, organic look, it's a perfect finish.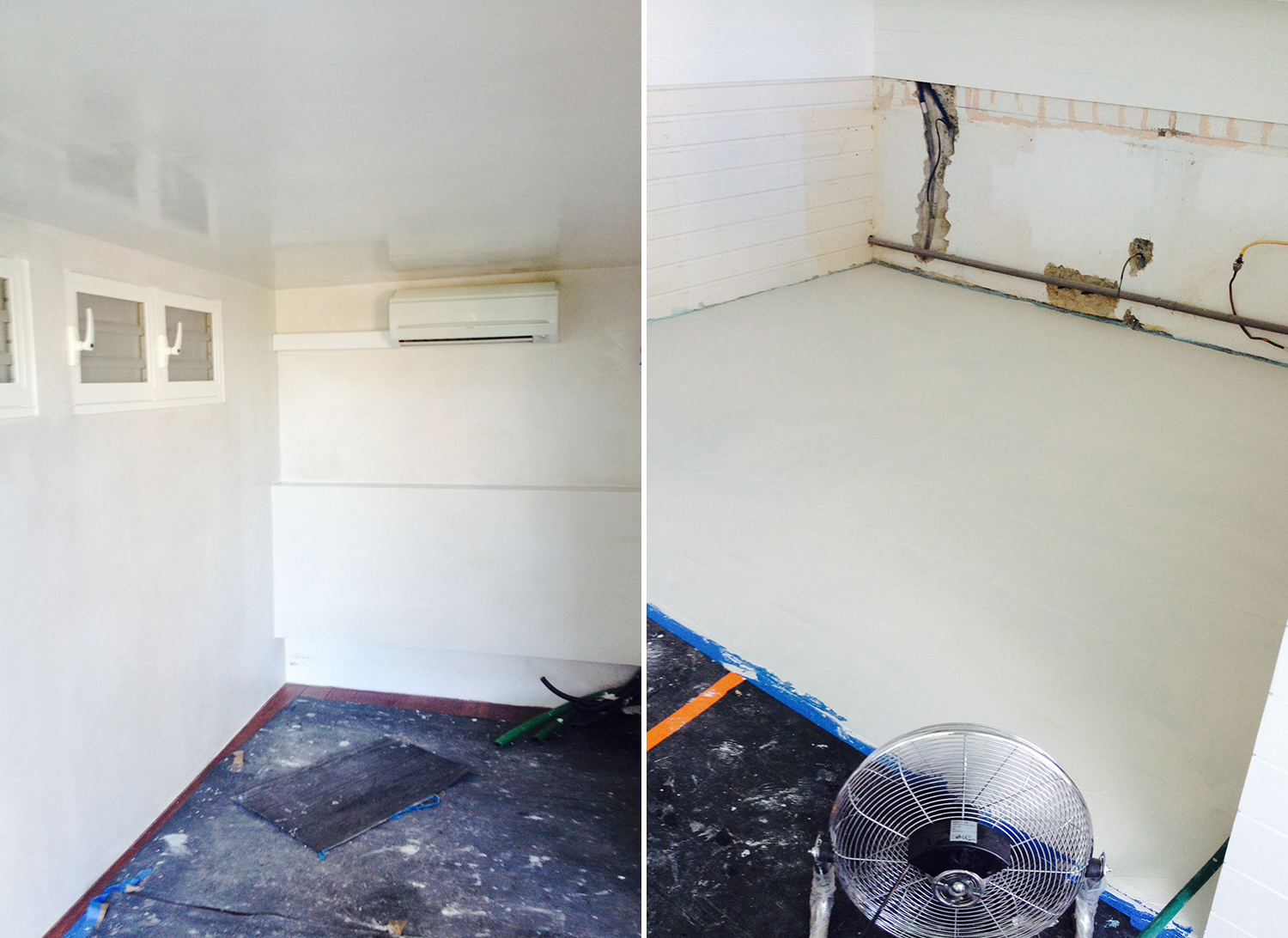 The image on the right is of the kitchen. The floor currently has two coats of the base, and the final coat will look much like the walls in the photo on the right. Once the floor is complete, the kitchen will be installed covering up all the ugly parts you currently see in the photo. You can barely see a hint of the beautiful new white wood paneling in that image.
The image on the left is of the small bedroom. The ugly A/C unit will be getting covered up. Just below is the AC unit is a built in headboard which we covered with plaster. We will also be building in a king bed here, as soon as the plaster dries. While this room is small, it's a space I'm really excited for. It's going to be very cozy, but minimal and clean. It has big sliding glass doors that open onto the deck and if you leave them open at night you can fall asleep to the sound of the waves.